Salary sacrifice and company cars: the essential guide.

If you're looking for a guide to salary sacrifice, and how it works in relation to company cars, you're absolutely in the right place.
Salary sacrifice can be a very sensible way to provide company cars for your employees, but only when it's done right.
This guide will take you through the whys and wherefores of salary sacrifice, giving you everything you need to know to understand whether salary sacrifice is right for you and
your business or not.
First off, what IS salary sacrifice?
Let's take the words verbatim from the Government (they're the ones in charge of it, after all):
"A salary sacrifice arrangement is an agreement to reduce an employee's entitlement to cash pay, usually in return for a non-cash benefit. As an employer, you can set up a salary sacrifice arrangement by changing the terms of your employee's employment contract."
https://www.gov.uk/guidance/salary-sacrifice-and-the-effects-on-paye#:~:text=A%20salary%20sacrifice%20arrangement%20is,of%20your%20employee's%20employment%20contract.
We're a vehicle leasing company, so we're going to be dealing mainly with salary sacrifice in relation to company vehicles, but salary sacrifice isn't just limited to cars – it covers a range of non-cash benefits, like pension contributions, childcare vouchers and bikes.
Why should you consider salary sacrifice?
It's tax-efficient – do it right, and salary sacrifice is a tax-efficient way to provide non-cash benefits to your employees
It's a great feature of a benefits scheme – if you put together a package of benefits for your employees, salary sacrifice can be a great addition to it
It's a cost-effective way to improve your green credentials and corporate social responsibility
How does salary sacrifice work?
For the purposes of this article, the main thing we're going to be covering is how you can use a salary sacrifice scheme to provide cars, both for you and any employees you choose to be part of it.
Essentially 'salary sacrifice' is exactly what it sounds like – an employee 'sacrifices' part of their gross salary in return for a particular benefit.
The employee saves income tax, NIC and HSCL on the salary they sacrifice, and as an employer you'll save Class 1 NIC and HSCL.
Salary sacrifice for employees
For employees, using salary sacrifice to get a company car is generally cost-effective – they can save a significant amount on income tax, NIC and HSCL (usually around 20-45% of the tax they'd have paid on the salary sacrificed).
They also get a vehicle more cheaply than if they'd leased it personally, because they'll benefit from manufacturer discounts and VAT savings, as it'll be a corporate hire vehicle.
And by opting for an electric car (which we'll come onto in a minute), they'll benefit from significantly lower running costs compared to a traditional diesel or petrol car.
In addition, having a company car also has its own benefits:
Fixed cost – with maintenance, breakdown (and optionally, insurance) included, they'll know exactly what they need to pay out
Depreciation protection – there's no risk of adverse residual value, since they're only hiring the asset through your business
Salary sacrifice for employers
From an employer perspective, you can save around 13-14% of the salary sacrificed.
You're also providing a significant benefit to your employees with NO additional cost to the business, which will aid you in recruiting, retaining and motivating your team*
Plus, you're encouraging those currently taking the 'cash allowance' to take on a company car, reducing issues with grey fleets, which are now becoming more and more of a problem.
And – obviously – when you opt for an electric car, running costs will be lower, so your company fuel bill can be reduced significantly.
What type of vehicles is salary sacrifice best for?
Simple answer: electric vehicles.
Salary sacrifice works best for vehicles with ultra-low emissions, because the car tax is reduced substantially.
And with zero emissions vehicles, such as fully electric cars, benefit-in-kind percentages are capped at just 2% until April 2025.
So, here's how the arrangement would work:
We'd arrange a lease on a zero emissions company car, with a corporate contract hire arrangement
Your employee sacrifices from their gross salary to pay for the car, getting themselves a brand new, insured car in the process
You and your employee BOTH save money
How much can you actually save with salary sacrifice?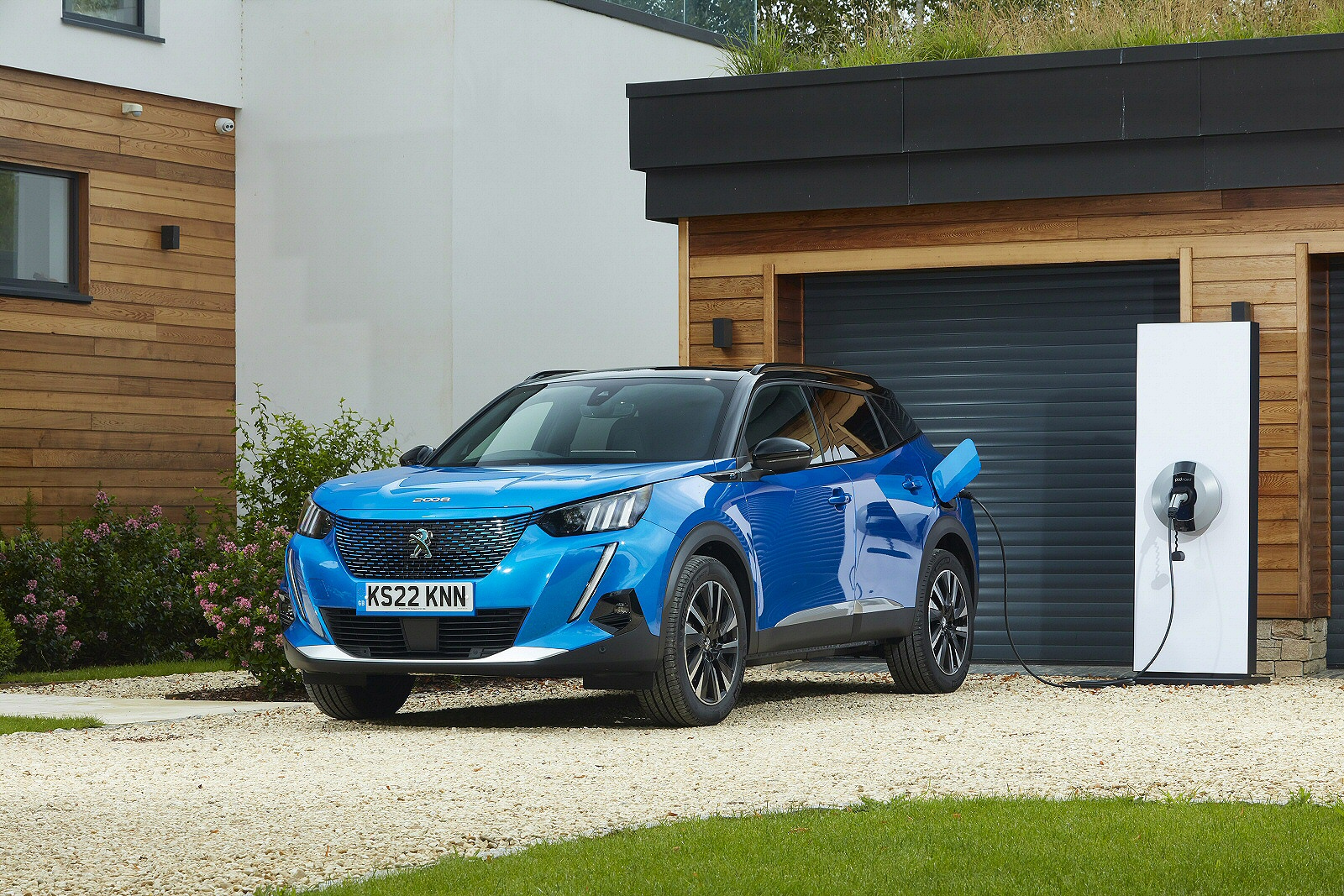 Let's be transparent about this: it depends. Manufacturers are
constantly changing pricing and the models available, so the exact figures will depend on what vehicle you get and when.
But let's use a broad example with one of the most popular electric vehicles around – the Peugeot e-2008:
If your employee was to privately lease a Peugeot e-2008, it'd cost them around £609.60 a month.
But when they use the salary sacrifice scheme to lease the car, here's how it works:
They sacrifice £561.16 of their gross salary, which means that their monthly pay packet takes a net hit of £387.30.
For that £387.30, they get a brand new Peugeot e-2008, including maintenance, insurance**, servicing and replacement tyres.
Oh, and there's no deposit or personal credit check required for the employee.
And from an employer perspective, it's also pretty rosy – you'll save £74.88 a month on the reduced Class 1 NIC and HSCL, so with the ID.3 you'd save £2,695.68 over the term, while also providing a significant benefit to your employee.
So, all in all, is salary sacrifice worth it?
Do it right, and yes it is:
It's a cost-saving, environmentally friendly benefit for your employees
They don't have to pay a deposit OR have a personal credit check
You can maximise the savings by opting for a zero emissions car
You save significant amounts on NIC and HSCL
There are NO set-up costs
Essentially do salary sacrifice correctly, and it's a win all round.
The question is: how are you going to do it correctly?
That's where we come in – at Concept Vehicle Leasing, we're experts in the world of salary sacrifice, and together with our accountancy partner, we've devised a straightforward system that makes salary sacrifice extremely easy to implement and achieve.
If you'd like to talk to us about salary sacrifice, then just give us a call on 0800 043 2050, or email us at hello@conceptvehicleleasing.co.uk and we'd be delighted to chat it through.
*If your employee leaves the business and you need to terminate the contract early, then termination penalties may apply. Talk to us about how this works, and how best to mitigate against any potential risk.
**Nominal sum of £50 per month included within the above calculation for insurance. Actual cost may vary.